I did enjoy the Riddell cartoon in today's Observer:
Back in the saddle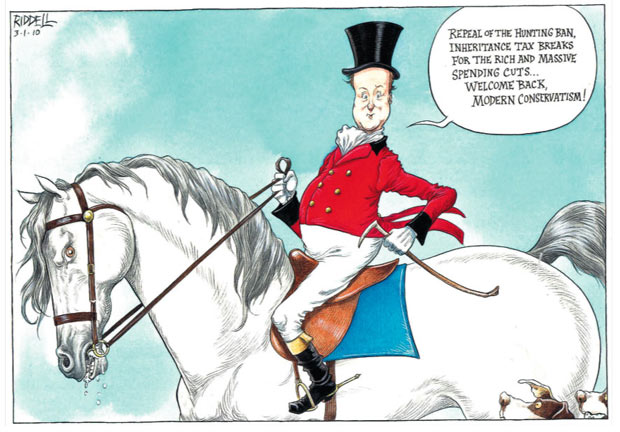 I had just read the front-page lead, "David Cameron to pledge NHS cash boost for most deprived areas".  This reports that David Cameron is going to announce tomorrow that in the (unlikely) event that he wins this year's General Election billions of pounds of NHS resources will be diverted to the most deprived parts of the country- apparently in an attempt to defuse the "class war" attacks on his Party.
Interesting, if true.
So where would this money come from?  Even bigger cuts elsewhere in the public sector?  The King's Fund has demonstrated that even maintaining current cash spending on the NHS would lead to devastating reductions elsewhere.  So what will suffer?  Defence?  Police??  International Development???
Or is it going to come from elsewhere in the NHS?  So does this mean that middle-class areas will have their NHS resources cut?  Will Tory candidates in those areas come clean with their electorates??  And is the plan that the middle classes are to be forced into private health insurance???
So is this the vision for "Modern Conservatism"?
I think Tom Harris (no relation – he's Scottish) seems to have got it right.