Seven and a half years ago, I warned in a debate in the House of Lords about the risk to the nation's critical national infrastructure of a concerted cyber-attack, saying:
"As a nation, the systems that are essential for our health and well-being rely on computer and communications networks – whether we are talking about the energy utilities, the water and food distribution networks, transportation, the emergency services, telephones, the banking and financial systems, indeed government and public services in general – and all of them are vulnerable to serious disruption by cyber-attack with potentially enormous consequences.  …
The threat could come from teenage hackers with no more motivation than proving that it could be done, but even more seriously it could come from cyber-terrorists intent on bringing about the downfall of our society. "
The Ministerial reply I was given at the time bordered on the complacent – even though I was assured that it wasn't:
"there are also terrorists who would challenge and seek to undermine democratic society using any methods within their grasp. It is not complacent to say this; but perhaps it should be made plain that at the moment they do not appear to be interested in attacking us electronically."
"British intelligence picked up "talk" from terrorists planning an Internet-based attack against the U.K.'s national infrastructure, a British official said, as the government released a long-awaited report on cyber security.
Terrorists have for some time used the Internet to recruit, spread propaganda and raise funds. Now, this official said, U.K. intelligence has seen evidence that terrorists are talking about using the Internet to actually attack a country, which could include sending viruses to disrupt the country's infrastructure, much of which is now connected online. The official spoke on condition of anonymity and didn't say when the infrastructure threat was detected and how it was dealt with.
Terrorists, however, are still more focused on physical attacks that lead to high casualties and grab attention. "For the moment they prefer to cover the streets in blood," he said."
Again, the official line was inclined to dismiss the likelihood of an attack …
Now comes
news
that a video captured by FBI agents last year and now released by the Senate Committee on Homeland Security purports to show an al Qaeda leader calling on "covert mujahidin" to launch cyber attacks against The 
video
 explicitly calls for cyber attacks against the networks of both government and life-sustaining critical infrastructure, including the electric grid, and compares vulnerabilities in U.S. critical cyber networks to the vulnerabilities in our aviation system prior to 9/11.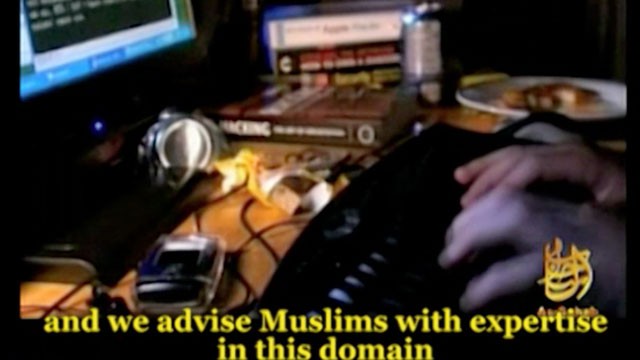 So – boringly – I was right (again).
The question remains are our cyber-defences going to be adequate.